Ant infestations can escalate rapidly, triggered by just one ant entering your home. Once a food source has been found, ants will communicate with each other using pheromones to signal scouting ants towards nourishment. Unfortunately, what starts as a small problem can evolve into an invasion of ants that severely disrupts your life.
At Flytech Pest Control, we understand the severity of an ant problem. That's why our 24/7 ant control service eliminates the pest and protects your home from a future infestation.
Contact our professional team of ant experts today by calling 07955 008274.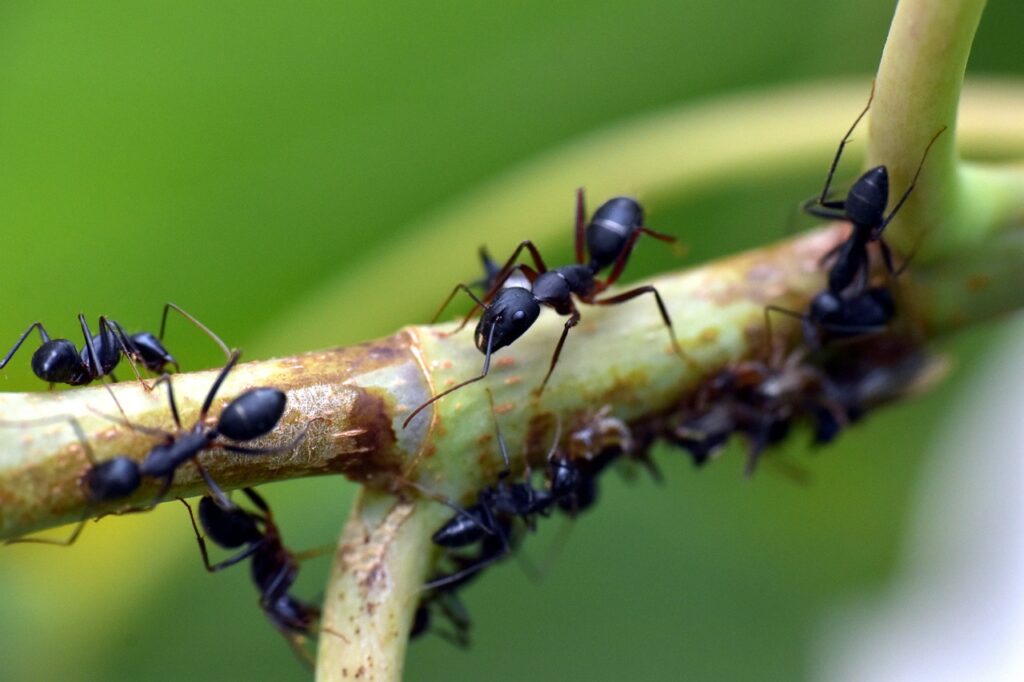 Our Ant Control Process
Investigation
Once you have identified a pest on your property, contact us by phone, email, or fill out a contact form, and we will get back to you. We will get as much information about your pest problems as possible during this initial chat.
Attendance
Once a thorough domestic inspection is organised, we will visit at the agreed date and time. We will conduct a comprehensive survey to identify ant entry points, ant nest locations and ant species. We also offer immediate treatment to domestic properties following the survey.
Follow Up
Ant extermination treatments typically require one visit; however, larger colonies may require additional visits. Therefore, we will return as many times as necessary to eradicate your insect pests, included in the quoted price. 
Aftercare
After each visit, you'll receive a report of everything we've done, including equipment, insecticide and gel baits used. If you have any questions, we are just a phone call away!
Guaranteed Ant Removal Service in Belfast & Lisburn
Ciaran Dougherty
2023-07-10
Turned up when they said they would, were very knowledgable and competent and did a thorough inspection and completed all work very quickly. Also very friendly and put us at ease. Highly recommended!
Johnny (and his colleague, who did work on the drains to resolve the issue) are totally reliable, incredibly helpful and did such a fantastic job! Identified the problem straight away and set to work. Total confidence in how the job was done. The follow up is second to none. I felt reassured the minute Johnny arrived on site, during the job and afterwards too, as follow up visits were part of the service for this issue. Could not have got through this ordeal without their help. Delighted to have this contact should I need work done in the future.Would not hesitate to recommend this service to others.
Rodney Simpson
2023-05-22
quick to respond to my call and sorted the problem, very friendly and efficient
Cathal O'Rourke
2023-05-14
Doesn't get any better than Johnny!
Clodagh Devlin
2023-05-04
Jonny was very professional and courteous. I would definitely recommend his services.
James Duggan Estates
2023-05-04
We have used Johnny on several occasions over the last couple of years. Never let's you down, knows exactly how to eradicate the issue, offers great advice and willing to go the extra mile. No hesitation recommending.
Pamela McDonald
2023-03-17
First class service Johnny was very professional and thorough didn't rush and explained everything in great detail he went over and above what he had to do would definitely recommend his services Thanks Johnny
norman belshaw
2023-02-22
The boys done good! Came back as promised and after a quick consultation, sorted out the pigeon problem with minimal fuss. Happy to recommend them in future! 👍
Flytech provides a first-class service from every point of view. The response rate and efficient service were impressive. I have complete confidence in Johnny's advice and professionalism, and I recommend this firm very highly.
A first class service, Flytech pest control services solved the problem but reviewed the entire property making suggestions on future prevention, guiding us to make changes ourselves to save money and where that was difficult giving us options. Thoroughly professional, I cannot recommend them enough.
Ants
Ants are close relatives to bees and wasps, falling under the insect order Hymenoptera. There are over 13,000 different ant species in the UK and an estimated 20 quadrillion ants on Earth. This means there are 2.5 million ants for every human, outnumbering us by extraordinary amounts.
Some of the most common ant species which you will see in the UK include:
Black Garden Ant: The ant you are most likely to come across in your homes is the common black garden ant (Lasius niger). The garden ant lives in complex tunnelled nests underground, typically under paving stones, vegetation or in your soil.
Tropical Ant: This categorisation involves pharaoh ants (Monomorium pharaonis) and ghost ants (Tapinoma melanocephalum), as they traditionally come from warmer climates. This instinctive behaviour means that heated buildings such as hospitals, hotels, restaurants and flats are their nesting location of choice in the UK.
Carpenter Ant: This species (Carponotus) are adeptly named based on how they build nests. Carpenter ants excavate wood, building their nests inside trees or wooden furniture and are indigenous to forested parts of the world. Due to their habits, carpenter ants can burrow into structural beams and furniture, creating extensive damage which is hard to spot.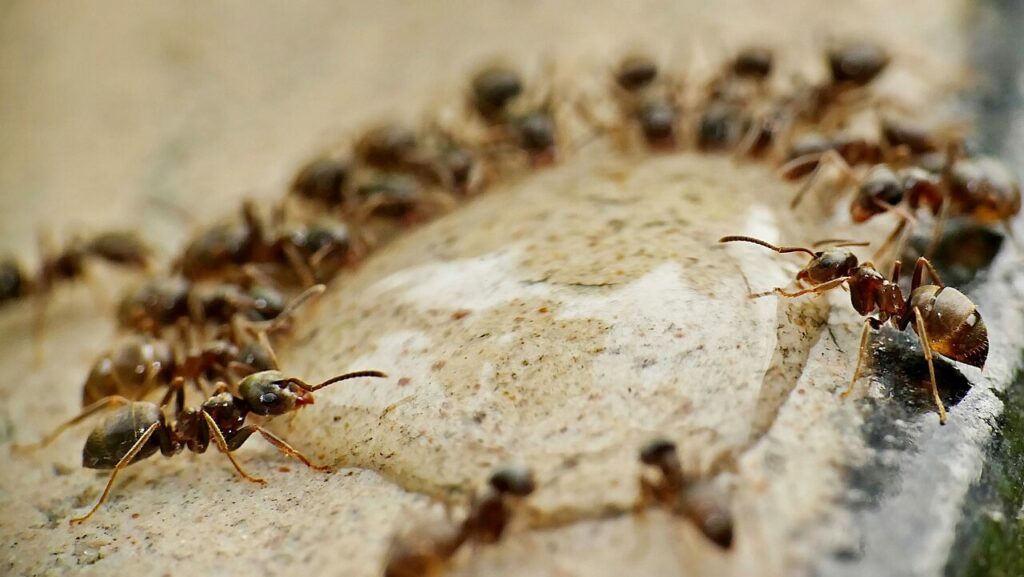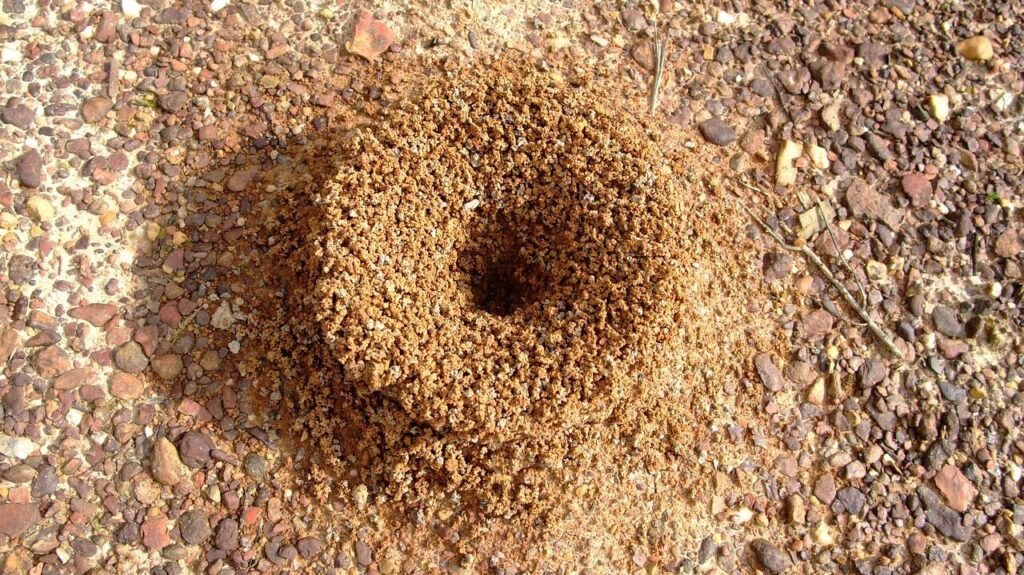 Signs Of An Ant Infestation
Detecting an ant colony in its early stages will minimise disturbance and annoyance. Furthermore, the earlier we are called to a job, the quicker and cheaper the service will be.
Here are some of the most prevalent indicators to watch out for:
Ants
The most obvious sign of an ant problem is finding live ants in your home. Ants are commonly found in pantries, kitchens or food preparation areas as they search for food.
Ant Nests
Look for small mounds of dirt, soil or sand. This signifies the entrance to an active ant nest, and some colonies can have up to half a million ants thriving beneath the surface.
Ant Trails
Ants use pheromone trails to communicate with their colony and signal new ants to a food source. Identifying ants marching in a line indicates a significant pest problem that could quickly worsen without expert intervention. 
Allergies
Ant bites can trigger anaphylaxis or cause physical discomfort in highly reactive individuals. This can lead to unexplained itchiness or swelling.
Found ants in house?
Now that you have identified an ant pest control problem, action is required to control the infestation and future-proof your property.
At Flytech, our comprehensive service will deal with all pests using a professional insecticide and gel bait treatment plan. Once the queen and colony are managed, our pest control technicians will block all ant entry points. Finally, we will recommend preventative measures to minimise your chances of a re-infestation.
Our 24/7 ant control service is available to all properties in Belfast, Lisburn and the surrounding areas in Northern Ireland. We are discreet and promise 100% pest eradication.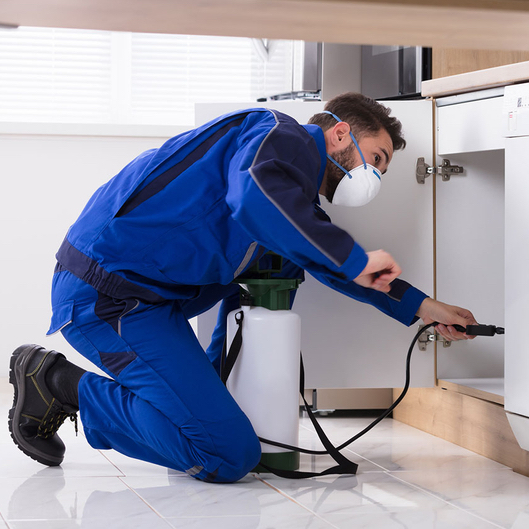 Frequently Asked Questions
How can I prevent ants in house? 
How much does ant control cost? 
How do I get rid of ants permanently? 
How long do flying ants live?