Opening a window and having fresh air fill a room is a basic human right. However, an open window can lead to unwelcome pests that infiltrate your property and cause a disturbance. To combat this, we specialise in providing practical solutions that protect you against flying insects. At Flytech, we are the leading manufacturer and installer of fly screen windows in Belfast, Lisburn and Northern Ireland. All our screens are made to measure and supplied with an ultra-durable fibreglass mesh to keep homes and businesses safe.
Our bespoke fly screens for windows come in two different options: hinged and sliding. Both effectively deter and prevent flies, wasps, mosquitoes and midges from entering your property. Unfortunately, flying insects such as mosquitoes are known carriers of diseases, posing significant health risks to your family, employees and customers. As a result, our innovative mesh windows keep your property bug-free and provide a natural and chemical-free approach to disease prevention. So, if you are looking for an insect control solution that improves airflow and reduces allergens, call our expert team at 07955 008274.
Northern Ireland's Highest Reviewed Fly Screen Window Company
Ciaran Dougherty
2023-07-10
Turned up when they said they would, were very knowledgable and competent and did a thorough inspection and completed all work very quickly. Also very friendly and put us at ease. Highly recommended!
Johnny (and his colleague, who did work on the drains to resolve the issue) are totally reliable, incredibly helpful and did such a fantastic job! Identified the problem straight away and set to work. Total confidence in how the job was done. The follow up is second to none. I felt reassured the minute Johnny arrived on site, during the job and afterwards too, as follow up visits were part of the service for this issue. Could not have got through this ordeal without their help. Delighted to have this contact should I need work done in the future.Would not hesitate to recommend this service to others.
Rodney Simpson
2023-05-22
quick to respond to my call and sorted the problem, very friendly and efficient
Cathal O'Rourke
2023-05-14
Doesn't get any better than Johnny!
Clodagh Devlin
2023-05-04
Jonny was very professional and courteous. I would definitely recommend his services.
James Duggan Estates
2023-05-04
We have used Johnny on several occasions over the last couple of years. Never let's you down, knows exactly how to eradicate the issue, offers great advice and willing to go the extra mile. No hesitation recommending.
Pamela McDonald
2023-03-17
First class service Johnny was very professional and thorough didn't rush and explained everything in great detail he went over and above what he had to do would definitely recommend his services Thanks Johnny
norman belshaw
2023-02-22
The boys done good! Came back as promised and after a quick consultation, sorted out the pigeon problem with minimal fuss. Happy to recommend them in future! 👍
Flytech provides a first-class service from every point of view. The response rate and efficient service were impressive. I have complete confidence in Johnny's advice and professionalism, and I recommend this firm very highly.
A first class service, Flytech pest control services solved the problem but reviewed the entire property making suggestions on future prevention, guiding us to make changes ourselves to save money and where that was difficult giving us options. Thoroughly professional, I cannot recommend them enough.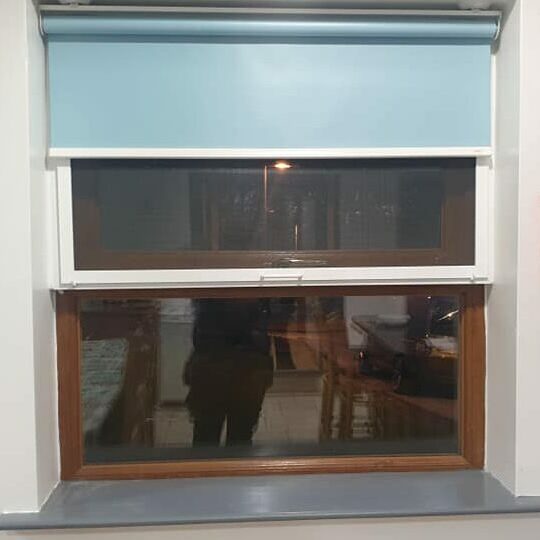 Hinged Fly Screen Windows
Hinged fly screen windows, also known as casement fly screens, deliver unparalleled protection for residential, commercial, and industrial properties. These aluminium screens sit within a sturdy 50mmx25mm subframe with mitred corners that provide strength and long-lasting durability.
Uniquely, our screens have a stainless-steel pin hinge design, enabling effortless removal for essential cleaning and storage in the winter. This feature adds an extra layer of convenience to our screens, ensuring hassle-free usability and maintenance.
In addition, window fly screens are highly adaptable. They can be installed internally or externally and fitted to wooden, UPVC and metal windows. This versatility ensures maximum defence against pests, regardless of the window material or surrounding structure.
Sliding Fly Screen Windows
Sliding fly screens are two independent screens moving horizontally along an aluminium track, one positioned slightly behind the other. They feature a solid aluminium frame suitable for industrial and commercial environments.
It is the favoured solution for properties that have larger windows, where a hinged frame would be difficult or awkward to manage. In some cases, we can install insect screens vertically or have just one frame which moves for optimal functionality. However, this depends on your requirements and property.
Available in white powder coat finish
Suitable for installation over wooden, UPVC and metal windows
Contains fibreglass screen mesh
Easy removal for cleaning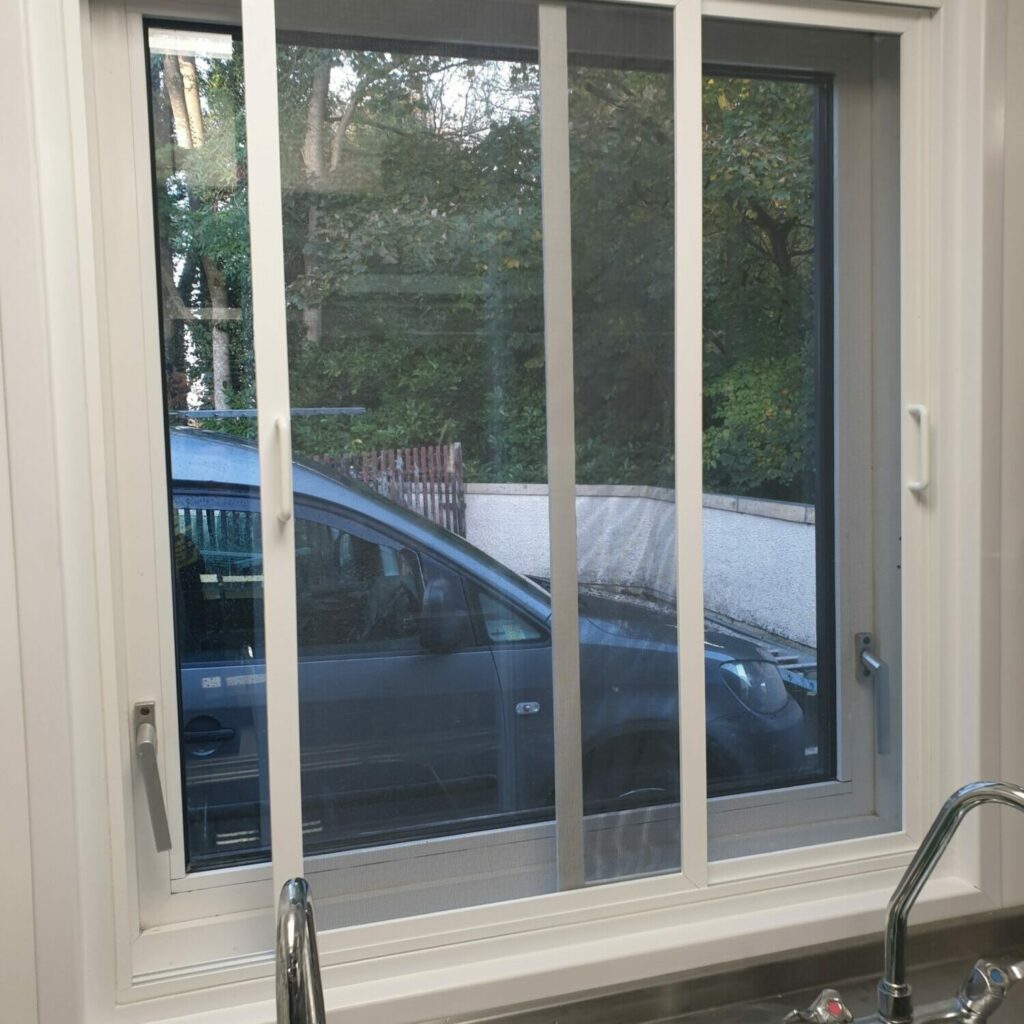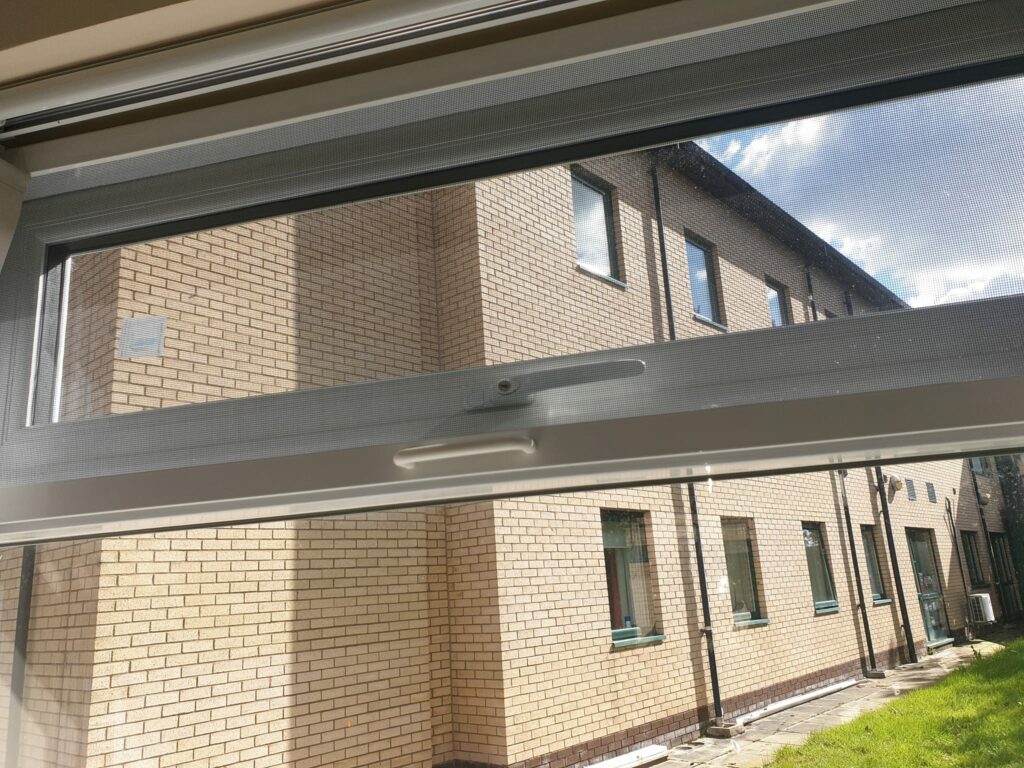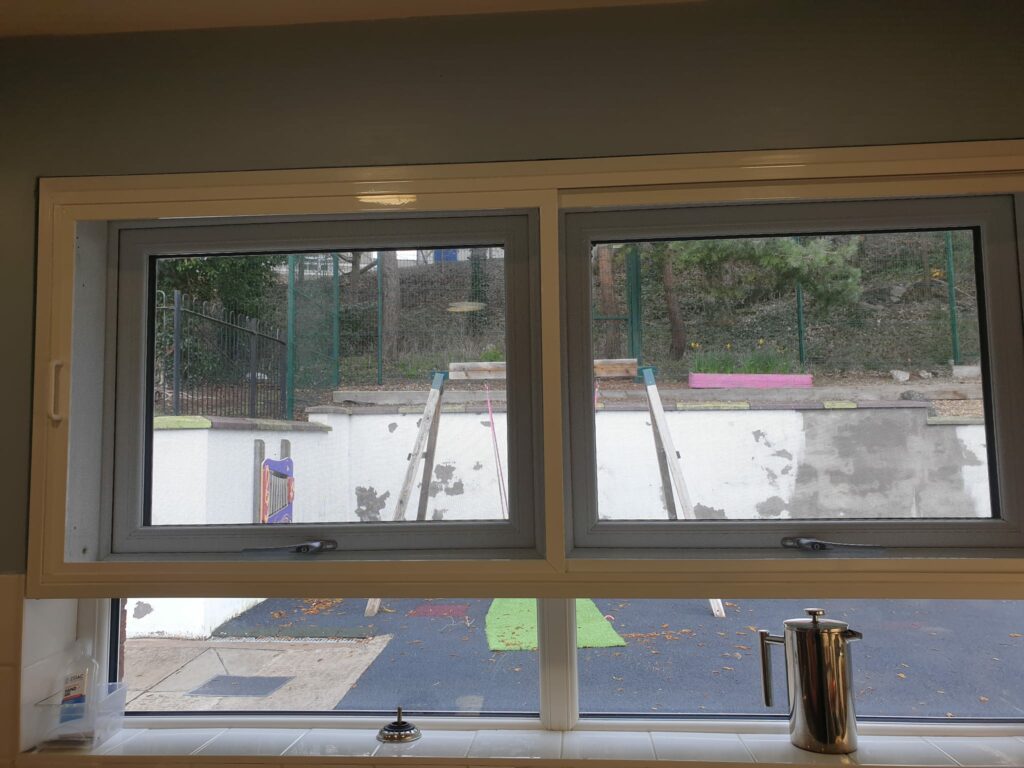 Commercial Requirements for Fly Screen Windows
For businesses operating within the food, drink and hospitality sector, safe food handling and preparation is paramount. Therefore, to adhere to the stringent standards of The Food Safety (General Food Hygiene) Regulations 1995, business owners must take additional pest-prevention measures. Thus, implementing insect screens for windows and door fly screens is a precautionary step to minimise contamination risks.
The presence of pests, including cockroaches, midges, fruit flies and wasps, can pose significant threats to hygiene. So, deploying high-quality insect screens becomes essential in safeguarding the integrity of your establishment. These screens act as a barrier, keeping pests and other contaminants away while allowing fresh air to circulate freely.
All fly screens are strategically designed to adhere to regulations, featuring a white aluminium frame which can be cleaned and sanitised easily. As a result, they keep staff and customers safe and maintain a sterile environment.
Professional Fly Screens For Windows With FlyTech
Here at Flytech Pest Control, we believe in guaranteed solutions that deliver results. Therefore, our measuring and fitting service ensures all fly screens fit perfectly and blend seamlessly into the existing window frame. This pest-prevention solution protects against insects, diseases and allergens and is a valuable addition to all environments. 
In addition, we are the leading Pest Control company in Belfast and Lisburn, delivering pest management treatments 24/7. If you are suffering from an existing insect problem or require a wasp nest removal, we are just a call away. Contact our expert technicians at 07955 008274 or complete this online form, and we will be in touch.
Frequently Asked Questions
Do fly screens go inside or outside windows? 
How long does a window fly screen last? 
How do you keep window fly screens clean?