Solar panels are pushed more and more by our government as we move towards a greener society, and with the reduced reliance on the national grid, installing them on your roof has many benefits. But unfortunately, solar panels have one huge problem, the fact that birds nest underneath them.
Solar panels are highly attractive to birds as an area to seek shelter, find warmth and breed. The noise, distribution and extensive damage they cause while nesting can stop your investment from being as efficient.
Flytech's solar proofing team is available across Belfast to install solar spikes and bird proofing materials to prevent birds from being able to live underneath. We're so confident in our work we even offer a 10 year guarantee that you won't find from any other company in Northern Ireland. If you're not happy with our work, we'll provide further visits free of charge to solve your bird pest problem.
If you require an immediate response or to discuss our solar panel proofing services, contact us at 07955 008274.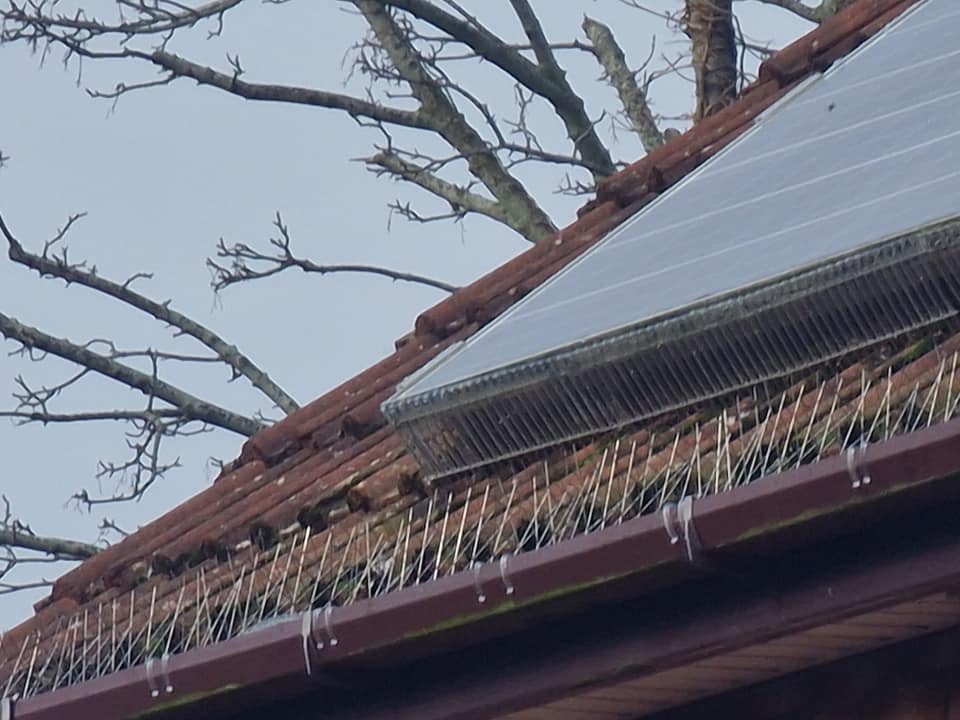 How Much Does Solar Panel Pigeon Proofing Cost?
Accessing your roof safely is our number one priority at Flytech, and we will never climb onto a roof without the correct equipment. We've heard of multiple cases of cowboy installers completing solar panel work for less than £800, which only means corners have been cut with health and safety. We typically work from mobile elevated work platforms but can arrange scaffolding depending on the situation.
Material costs are unavoidable with the job; our prices alone are £400 for an average installation. If a company says it can source the same grade of materials at a lower cost, there are some serious questions to ask about the quality of the materials used.
Our bird proofing solar panels service starts from £1000, but we can guarantee with that price, you will receive the highest quality installation techniques in Northern Ireland.
How Our Solar Panel Bird Proofing Services Work
Survey
Once you contact us, we'll ask for photos to be sent via WhatsApp or email. We'll then be able to provide you with a price within the same day you send photos. If more information is needed, we'll visit your property free of charge to survey the work.
Access
Once the work is agreed upon, our pest control team will visit your property and start gaining access to the roof. Some properties require scaffold, some require boom lifts, and others can be done from roof ladders. We take access seriously and will never put our staff in dangerous situations, and hopefully, you don't employ someone who will.
Installation
Before installing the solar spikes, we'll remove all adults and eggs from underneath. Then, our pest control installation team will fit the proofing materials, ensuring we are careful not to damage any warranty you may have with your installer.
Decontamination
Finally, we'll remove bulk fouling, decontaminate and clean your solar panel array. Pigeons carry a range of diseases through their guano, so it's essential to decontaminate the area before finishing.
5* Pigeon Proofing Solar Panels Belfast

07955 008274
norman belshaw
2023-02-22
The boys done good! Came back as promised and after a quick consultation, sorted out the pigeon problem with minimal fuss. Happy to recommend them in future! 👍
Flytech provides a first-class service from every point of view. The response rate and efficient service were impressive. I have complete confidence in Johnny's advice and professionalism, and I recommend this firm very highly.
A first class service, Flytech pest control services solved the problem but reviewed the entire property making suggestions on future prevention, guiding us to make changes ourselves to save money and where that was difficult giving us options. Thoroughly professional, I cannot recommend them enough.
Johnny was diligent and professional. I would recommend him to anyone. It was a great value and friendly service.
All work done with professionalism and didn't overcharge for a difficult job that needed several visits. Would definitely recommend.
Lorraine Osborne
2023-01-02
Will definitely be using his services again
Angela Davison
2023-01-02
This is the 2nd time I've used this company in the summer I had a few wasps nests on my property and I've had a rat infestation, highly professional no trace of any wasps or rodents left I would highly recommend this company, johnny is very professional and great at his job.
Leanne Mccrory
2023-01-02
Had a problem with mice, Johnny had it sorted in no time for me, very professional and friendly I would definitely use this service again.
Excellent service 👍🏻
Matthew McNaughton
2022-10-30
Johnny a nice guy and very professional. My problem was sorted within his two visits. Highly recommend this guy!! Cheers buddy
What Damage Do Pigeons Cause To Solar Panels?
When birds nest underneath, they cause problems like mess, noise, pests, and guano. You must deal with the problem as soon as you notice it to ensure numbers do not multiply.
Mess
Pest birds construct their home using nesting materials like sticks, twigs and leaves. This results in an accumulation of debris on your roof which causes guttering to become blocked during winds and rainstorms. Furthermore, it's common for baby pigeons or eggs to fall from the roof, creating an unhygienic mess in your garden.
Noise
During dawn and dusk, feral pigeons tend to be the most active. This can be problematic for you and your neighbours, as their cooing has the potential to be heard through the roof and disrupt your sleep.
Other Pests
Pigeons harbour their own parasites when nesting, particularly bird mites. If pigeons are left to nest beneath for an extended time, mites can build up and leave you with additional pest infestations to remove.
Gauno
Bird excrement, commonly known as guano, can cause structural damage and create an unsightly mess on your roof, gutters, and windows. Additionally, if the pigeons happen to defecate directly onto your panels, the accumulation of guano can obstruct the sun's rays and undermine the effectiveness of your investment.
FAQs
Will solar panel proofing damage my warranty?
Do I need solar panel bird proofing?
Does bird guano damage solar panels?
Can I use aluminium foil to scare off pigeons?
Will you remove all birds?
Why should I use a pest control company to carry out the work?