Fly-screen doors are designed to keep unwanted pests and contaminants from your property without compromising natural ventilation. They are an essential addition to any home or business, especially during the warmer months when insects, vermin and pollutants are most active.
Here at Flytech Pest Control, we are the leading manufacturer, supplier and installer of fly-screen doors in Northern Ireland. With technicians located in Belfast and Lisburn, our efficient service will keep your property free from diseases, damage and dangers associated with pests.
Our quality fly screen doors come in two options and are suitable for different applications: standard and heavy-duty.
Northern Ireland's Highest Reviewed Fly Screen Door Company

07955 008274
Ciaran Dougherty
2023-07-10
Turned up when they said they would, were very knowledgable and competent and did a thorough inspection and completed all work very quickly. Also very friendly and put us at ease. Highly recommended!
Johnny (and his colleague, who did work on the drains to resolve the issue) are totally reliable, incredibly helpful and did such a fantastic job! Identified the problem straight away and set to work. Total confidence in how the job was done. The follow up is second to none. I felt reassured the minute Johnny arrived on site, during the job and afterwards too, as follow up visits were part of the service for this issue. Could not have got through this ordeal without their help. Delighted to have this contact should I need work done in the future.Would not hesitate to recommend this service to others.
Rodney Simpson
2023-05-22
quick to respond to my call and sorted the problem, very friendly and efficient
Cathal O'Rourke
2023-05-14
Doesn't get any better than Johnny!
Clodagh Devlin
2023-05-04
Jonny was very professional and courteous. I would definitely recommend his services.
James Duggan Estates
2023-05-04
We have used Johnny on several occasions over the last couple of years. Never let's you down, knows exactly how to eradicate the issue, offers great advice and willing to go the extra mile. No hesitation recommending.
Pamela McDonald
2023-03-17
First class service Johnny was very professional and thorough didn't rush and explained everything in great detail he went over and above what he had to do would definitely recommend his services Thanks Johnny
norman belshaw
2023-02-22
The boys done good! Came back as promised and after a quick consultation, sorted out the pigeon problem with minimal fuss. Happy to recommend them in future! 👍
Flytech provides a first-class service from every point of view. The response rate and efficient service were impressive. I have complete confidence in Johnny's advice and professionalism, and I recommend this firm very highly.
A first class service, Flytech pest control services solved the problem but reviewed the entire property making suggestions on future prevention, guiding us to make changes ourselves to save money and where that was difficult giving us options. Thoroughly professional, I cannot recommend them enough.
Standard Fly Screen Door
Our standard fly screen doors are a suitable insect-proofing solution for domestic or commercial properties which don't have heavy traffic. The doors are ergonomically designed and can feature an aluminium push plate in the centre of the frame and a kick plate at the base of the door. In addition, each door is manufactured with mitred corners, which are held together with double riveted metal keys to provide strength and durability.
Available in white powder coat finish
Suitable for installation over wooden, uPVC and metal doors
Contains fibreglass screen mesh
Easy removal for cleaning
Bristle strips to seal rodent ingress points
Screen doors fitted to a mitred subframe 50mm x 50mm
Heavy-Duty Fly Screen Door
Flytech has worked with various health, automotive, food and catering businesses to maintain a pest-free environment. However, due to heavier traffic, these commercial and industrial applications require a stronger, more robust design. Therefore, our heavy-duty fly screens for doors are the recommended option.
This is our best-selling fly screen door, as it features all elements of the standard door with the addition of an internal lattice grill. Uniquely, this extra barrier provides incredible strength and prevents the mesh from weakening with repeated use.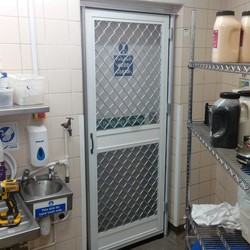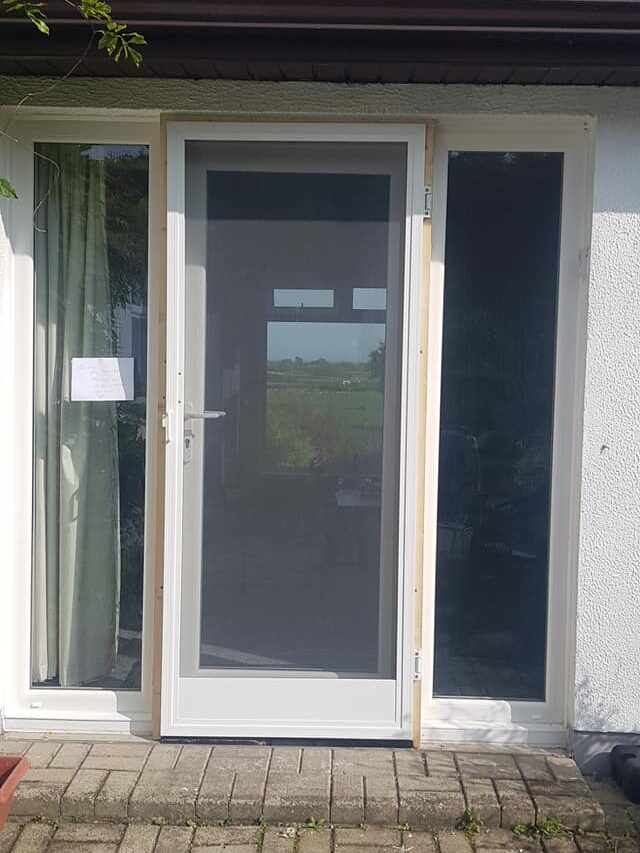 Commercial Requirements for Fly Screen Doors
Under The Food Safety (General Food Hygiene) Regulations 1995, openings, such as external doors that lead directly to commercial kitchens or preparation areas, must be fitted with an insect-proof screen. In addition, these screens must be easily removable for thorough cleaning to stay in line with stringent hygiene regulations. Strategically, our door fly screens contain 2-part metal constructed hinges with a removable pin for safe and quick removal for essential cleaning.
It is also a requirement that doors are made from a smooth and non-absorbant material that can be cleaned and disinfected. Thus, every door we manufacture has a strong and durable aluminium frame and lattice grill which can be easily sanitised.
Here at Flytech, we are experts in pest control, management and prevention, supplying pest solutions to commercial businesses for years. We know the industry well and understand the safety measures organisations must adhere to. As a result, our innovative fly screens for doors are long-lasting, cost-effective and in line with regulations.
Bespoke Fly Screens For Doors With FlyTech
Every home and business is different; therefore, we will organise a free survey to assess and measure the property. Then, we will manufacture a bespoke, tailor-made door fly screen to fit perfectly. Finally, when the door is ready, we will install it on-site as part of our fitting service.
We also offer comprehensive pest control services to all residential and commercial clients in Northern Ireland. As a result, we can simultaneously tackle all active wasp nests, rats and insect infestations to keep homeowners, employees and customers safe.
Learn more about our fly screens or organise a survey with an expert fly screen technician, please call us at 07955 008274 or complete this online form, and we will be in touch.
Frequently Asked Questions
Does Flytech manufacture fly screens for windows? 
How much does door fly screens cost?